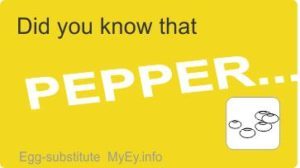 White pepper (ground)
Pepper being also rumored to have healing effects is the most widely used and most popular spice in the world. As early as in the Middle Ages the positive properties of pepper, which are nowadays used in the vegan egg substitute to preserve food and give it an aromatic flavor, have been used. At these times pepper was a precious good and was even worth its weight in gold. Therefore for the composition of MyEy ingredients established products are used, namely white pepper. White pepper is mature pepper of which the shell is removed by water, however the nutrients in the pepper itself are remained. Thus, the white pepper not only gives MyEy an authentic and characteristic egg taste, but also supports a healthy diet using the vegan egg substitute.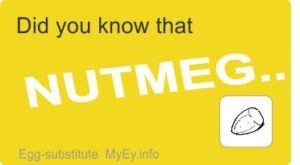 Nutmeg
The aroma of nutmeg which is used in MyEy products for refining, brings a pleasant taste in your vegan egg dishes. Traditionally nutmeg is also used in the "Love Cuisine" as an aphrodisiac, as it is rumored that the spice has stimulating effects. Nutmeg is often used in eau de toilette because of its seductive scent. It is this characteristic which is used in baking without eggs in vegan egg products to refine with nutmeg in a natural way the scent of egg substitute products. Thus, baking and cooking with the vegan alternative becomes a real flavor and taste experience and all that on a purely natural way.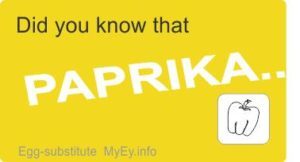 Paprika
Selected pepper varieties were collected, dried and ground to give the vegan yolk-free egg substitute products their characteristic taste. Care was taken to use so-called sweet varieties, to adjust the level of spice intensity in that way that baking and cooking with MyEy products tastes young and old! By the directed use of spices and paprika alternative egg substitute products get a strong pleasant color without any artificial coloring. MyEy products not only pamper your palate in a vegan manner, but also how does the saying go "it is a feast for the eyes!"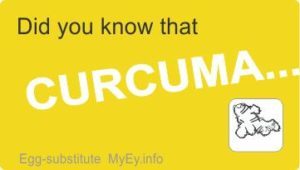 Turmeric powder (curcuma)
The Ayurvedic medicine considers turmeric, also known as curcuma, as good for people`s liver, skin and eyes. Curcumin is a component of turmeric and influences in a positive way health, it is cancer-inhibiting and anti-inflammatory and also supports bone metabolism. The turmeric used in the vegan egg substitute is mild and MyEy products owe their yellow color besides to lupine flour during baking and cooking without animal egg to the included plant compound curcumin.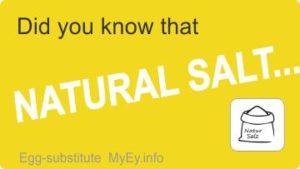 Natural Salt
Salt is an essential mineral which we mainly absorb through food. Due to its composition rock salt is said to have healing properties, for example treating colds but also other diseases. These positive effects of the nutrient-rich rock salt were selectively used in the vegan egg substitute to not only taste the consumer but also to enrich the alternative egg with minerals. The use of rock salt in the vegan egg substitute "MyEy" not only supports a healthy diet, but also gives the vegan egg alternative a distinctive authentic taste. The noble rock salt being also processed to table salt, is used in the vegan egg substitute as spice and impresses in MyEy with a subtle and unobtrusive flavor.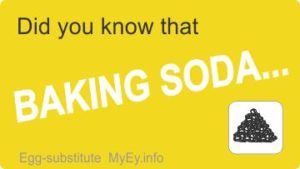 Baking Soda
Soda better known as baking soda, sodium salt or sodium bicarbonate has been used for generations in baking. But the baking soda used in the vegan egg substitute can do even more! Take advantage of the beneficial properties of soda in the vegan cuisine. It makes food not only faster soft, but also easily digestible and has positive effects on metabolism. The soda components in the pure vegetable egg substitute product are basic and can neutralize acid. Due to this ability the acid-base balance is actively supported and regulated.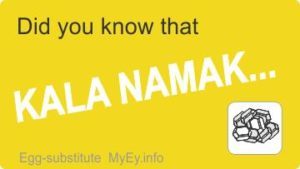 Black Salt (Kala Namak)
Black salt, also known as Kala Namak is mined and refined in India and Pakistan in the vicinity of volcanic and lava mines. The taste and smell of Kala Namak are specific and are reminiscent of eggs. Due to this black salt is used as a flavoring agent in vegan egg substitute products for cooking and baking without animal eggs. Black salt thus allows enjoying a vegan egg substitute with the sulfurous smell of the salt reminiscent of eggs of animal origin, although the food is purely vegetarian.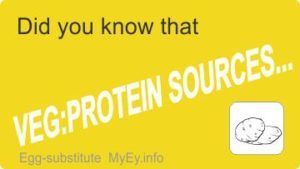 Vegetable protein sources (peas and potato protein):
Protein is essential for healthy human nutrition. In the vegan egg substitute animal fats and proteins are replaced by high-quality vegetable protein sources, so-called vegetable proteins. By the directed use of certain vegetable proteins in vegan egg substitute products animal protein sources can be completely replaced in baking and cooking without eggs, without undersupplying the body with proteins. Vegetable proteins in vegan egg alternatives supply the body with starch being used for the energy generating metabolism. Important representatives of the high-quality vegetable proteins are proteins derived from crops such as peas or potatoes and are often used in vegan cuisine. These proteins are recovered from the amniotic fluid of crops, and are particularly rich in high-quality nutrients. The use of these protein sources makes MyEy products an energetically valuable food.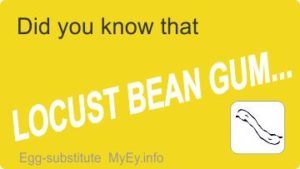 Locust bean gum
Locust bean gum is made from brown pods containing large nuclei which are finely ground. In pure vegetable MyEy products, but also other organic products, locust bean gum is used for thickening and gives the egg substitute in vegan dishes its pleasant consistency. In natural medicine locust bean gum is often used because of its soothing effect on the stomach.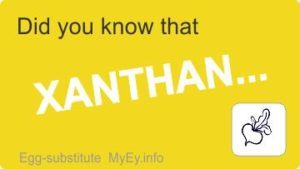 Xanthan
Xanthan is a natural substance which is classified to the group of fibers and is often used for binding in food of environmentally sustainable origin. Fibers not only promote digestion, but xanthan also gives the vegan egg substitute the desired consistency in pure vegetable dishes. The xanthan used in the egg alternative for baking without egg is made of sugar-containing substrates and therefore is in no way risky.

Lupine flour
Lupines and ground lupines in the form of flour contain all eight for humans essential amino acids and are often used in vegan cuisine. Such an amount of essential amino acids are only found in a few foods. The lupines with their strong color serve as a natural protein source and are also used in vegan egg substitute products, as they can easily be processed. Whether you want to bake on pure vegetable basis with MyEy products or to cook or to crumb it does not matter, the valuable ingredients are preserved.
Lupines are rich in natural vegetable oils, and also give MyEy products their pleasant color.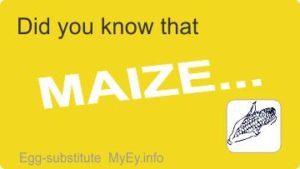 Maize
Maize is used for the production of corn starch and maltdextrin. These ingredients in vegan egg substitute products for cooking and baking without egg are used as binder. Corn starch is approved for use in foods and therefore harmless. Whether you bake with MyEy products, fry or cook it does not matter the shape of food is preserved in all vegan dishes. The dimensional stability of the dishes prepared with pure vegetable MyEy food products is comparable with dishes prepared with eggs of animal origin.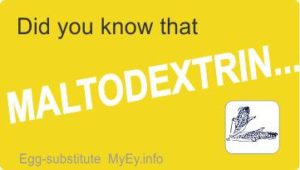 Maltodextrin
Maltodextrin is a carbohydrate mixture. Due to its high carbohydrate content it is used during cooking without animal egg in vegetable egg substitute products as energy source, but because of its neutral taste it does not affect the desired flavor of the pure vegetable egg alternative. The use of maltodextrin has proven its value also due to its high energetic content in sports nutrition or as a substitute in low-fat foods. In MyEy products maltodextrin increases the foam/cream stability and also facilitates the whipping of the vegan plant egg MyEy.
This post is also available in: German