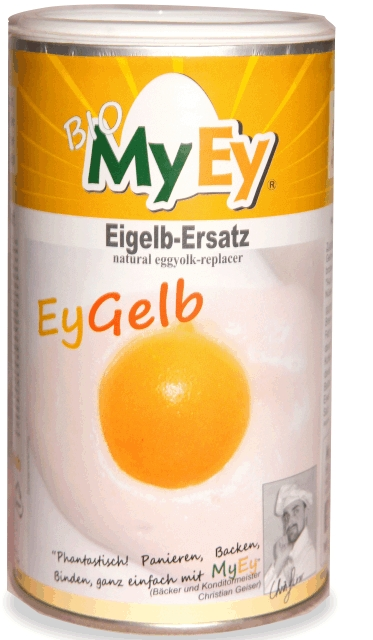 EyGelb
For the enrichment of food, the improvement of
nutritional values, To refine and improve the crumb
structure. Full-bodied flavour – strong in colour.
Not whippable,
Organic-content 100%
1 can of EyGelb replaces about 60 egg yolks!
Possible applications:
Pastries, yeast pastries, spätzle, sweet and salty,
egg dishes, fried egg, breading, cakes, dessert creams,
mayonnaise, sauces and much more.
BV Standard
3
Content
200g = 60 egg yolks
Benefits

easy to use
for thickenig seasoning, enhancing
fully natural & purely plant – based

Ingredients
Corn starch*, lupin flour*, maltodextrin*, rock salt, turmeric powder*, black salt,
gelling agent (xanthan gum, locust bean gum flour*), ground White pepper*, ground paprika*.
*From controlled organic cultivation. EU/non-EU agriculture. Predominantly regional
Note
May contain traces of gluten, nuts, soy and sesame.

Energy 321 kcal / 1351 kJ
Protein 19,6 g
Total fat 3,7 g

Nutrition facts 100g

of which saturated = 0,8g

Total carbohydrate = 44,7g

Salt = 6,7g
Fibre = 087g
mix 1:5 with water

Preparation
1 can delivers 1,2 kg MyEy liquid & fresh
1 bag delivers 6 kg MyEy liquid & fresh
Allergen ingredient Free from
Sugar ✓
Gluten ✓
Shellfish ✓
Alcohol ✓
Milk / -products ✓
Animal fats ✓
Mustard✓
Celery ✓
Egg/ -products ✓
Cholesterol ✓
Soy ✓
EyGelb + Water
300 (6 kg) = 1 bag + 5 liter
60 (1,20kg) = 1 can + 1 liter
50 (1000g) = 167g + 833 g/ml
3 (60g) = 10g + 50g/ml
1 (20g) = 3,3g + 16,7g/ml
This post is also available in: German French Italian Spanish